Grundfos Uni-E CM5-5 Inverter Water Pump | Best Price
Grundfos UNI-E CM5-5 water booster pump (1.5hp) is the ✅ most silent ✅ the best model among the house pump in Malaysia.
It come with inverter that provide variable speed control for the water pressure ✅ (constant pressure setting at 3 bar) that will not easily stress your house's water piping, especially the old pipes.
In addition, this model is the ✅ most suitable for Houses with many bathrooms that require high pressure but concerning too stress level on the house piping.
Furthermore, it provide comfort pressure for rain & hand shower, especially for those who using centralized hot water heating system. ✅
Grundfos UNI-E CM5-5 Water Pump Series CM5-5 c/w 8liter pressure tank and Inverter unit with adjustable pressure setting with built-in dry-running protection for automatic start/stop to provide  water pressure. Thus, it could deliver instant water supply with constant and uninterrupted pressure for your daily needs.
*recommended outlets subject to size and specification of water fittings
Contact or Whatsapp us now at  012-2332243  to check the best latest PROMOTION PRICE and FREE Gifts now!
Grundfos Inverter Water Pump Malaysia
The intensity of the water pressure, reliable and consistent temperature, the strong invigorating spray plus excellent energy savings… You can have it all with the top-of-the-line Grundfos UNI-E series pressure booster system.
Grundfos UNI-E variable speed drive home booster pump help ensures constant water pressure despite variation in demand or inlet pressure. This Home Booster pump keeps the pressure up regardless of usage. The constant pressure feature provides the benefits of increased comfort so that you can even personalize the water pressure that you are comfortable with.
In addition, with superior Danish technology, sterling quality and the fact that only Grundfos pumps are with SIRIM certificates. Thus, you are assure for the total peace of mind and satisfaction when you choose Grundfos.
At last, Grundfos, bringing modern comfort to your home.
Contact or Whatsapp us now at  012-2332243  to check the best latest PROMOTION PRICE and FREE Gifts now!
Grundfos Inverter Booster Pump Features & Benefits :
◊ Grundfos Uni-E CM5-5 is giving a longer product life time because major pump components are using stainless steel for the product that anti  corrosion and wear. Besides, the pump is Quiet Operation because both pump and motor are designing for low operation noise <54dB(A) to provide a comfortable environment.
The Grundfos Water is Quality Assurance,  Each UNI-E CM is factory assembled and tested before delivery, Product certified by SIRIM, Energy saving, Constant pressure driven by INVERTER, Eliminates water hammering,
In additions, Grundfos Uni-E CM5-5 Water pump gives 2 years warranty,  Space saving, Easy installation, setting and operation, and Built-in overload protection with Auto restart on power failure.
Contact us now at  012-2332243  to check the best price and FREE Gifts now!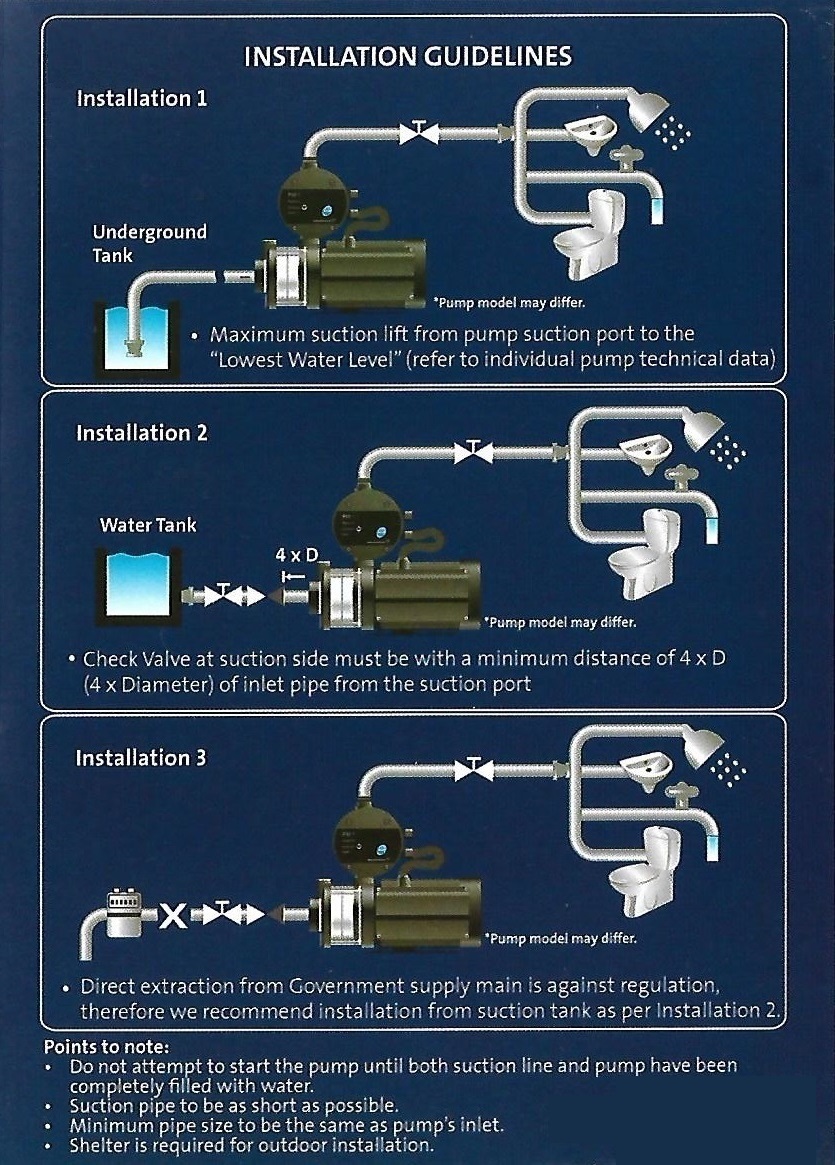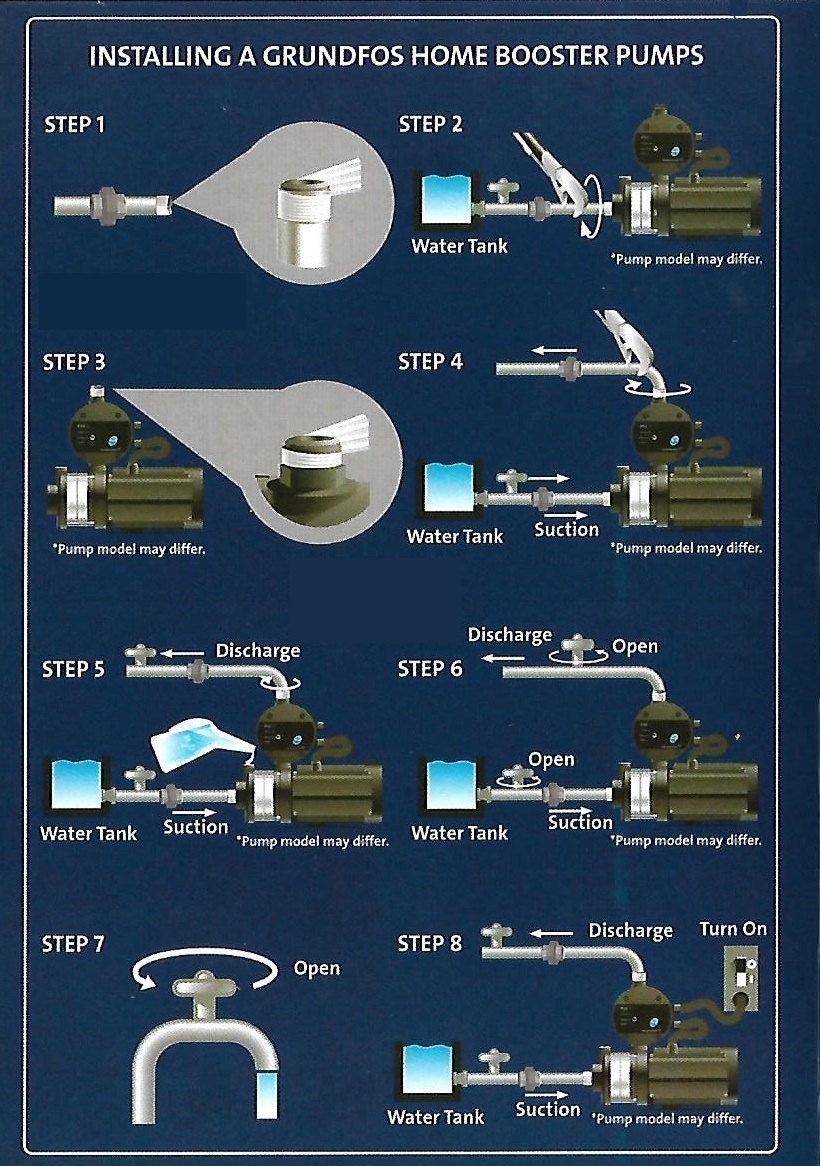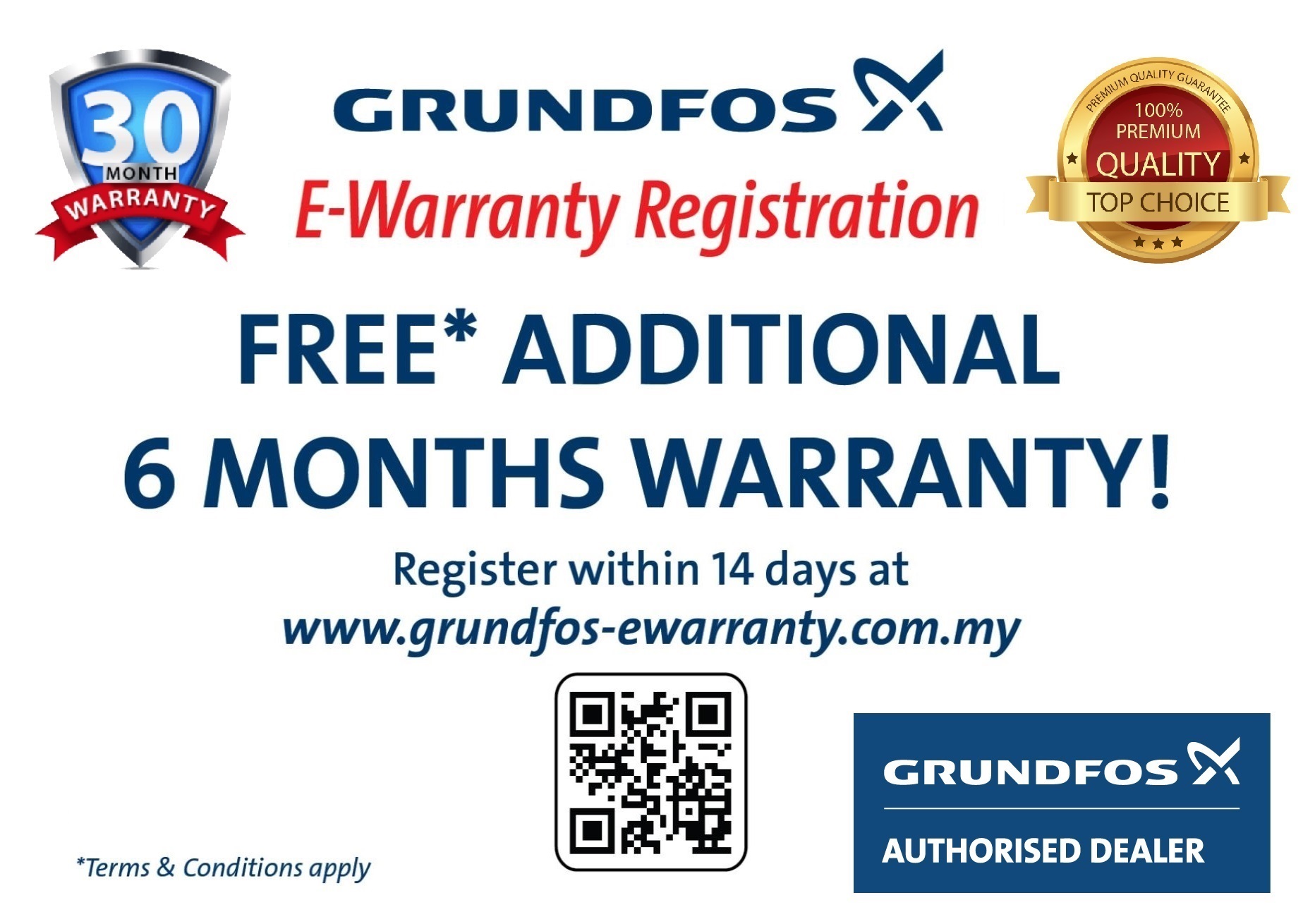 GRUNDFOS PUMP CONDITIONS OF WARRANTY
1. Grundfos will grant a 2 year warranty on the product against manufacturing defects commencing from the date of purchase. So, if the date of purchase is more than 60 days from the date of delivery; then it is necessary to attach a photostat copy of your purchase receipt to this warranty card.
2. The warranty is valid only when the purchase date is confirmed by the dealer's seal on the warranty card. It must sent to the Grundfos office within 7 days from the purchase date.
3. Within the warranty period, Grundfos shall carry out the repair or replacing of parts at Grundfos' option, ex-factory or ex-authorized Grundfos Service Centre.
4. Grundfos will not be liable for any costs of removal, installation, transportation, or any charges which arise in connection with this warranty claim.
GRUNDFOS PUMP CONDITIONS OF WARRANTY (2)
5. Grundfos will not be liable for any replacement of parts caused by normal wear & tear, damage caused by dry running, cavitation, unsuitable operating condition, unfavorable electric supply, mishandling, flooding, lightning, unauthorized alteration or repair, misapplication and product which is installed not in accordance to Grundfos printed installation and operating instructions. Thus, please ensure buyer is follow all the installation guides.
6. To obtain a warranty claim, the defective product must be return to the Grundfos Service Center together with the prepaid freight,  warranty card/receipt supporting the claim. Therefore, failure to present warranty card / receipt shall render the warranty claim invalid.
NOTE: The Warranty Card (Customer Copy) and original purchase document(s) must be produced for inspection when warranty service is requested. Any alteration or amendment to this certificate will render the warranty void. This warranty card is irreplaceable in the event of loss. The decision of Grundfos in relation to any claims or dispute over the warranty is final.
*Grundfos will not giving the Warranty if above conditions are not meet with completely.
For more information visit: Grundfos Uni-E CM