Grundfos Scala2 is the cheapest inverter water pump in for ✅ Grundfos Malaysia. This model is suitable for houses with 2 to 3 bathrooms that who are concern on burst of old piping ⭐ because it come with variable speed setting that can control the pressure at 2.5 bar (comfort pressure, so it will not stress the old piping easily.
The Grundfos SCALA2 is a fully integrated water booster pump delivering ✅perfect water pressure to all taps. ✅ It features pump, motor, tank, sensor, drive and non-return valve in one compact unit that installs quickly and easily. ⭐With its intelligent pump control, SCALA2 adjusts performance to any demand – and with its water-cooled motor, it offers one of the lowest noise levels in its class. The result is maximum comfort with minimum effort.
Best Grundfos SCALA2 Water Booster Pump Prices in Malaysia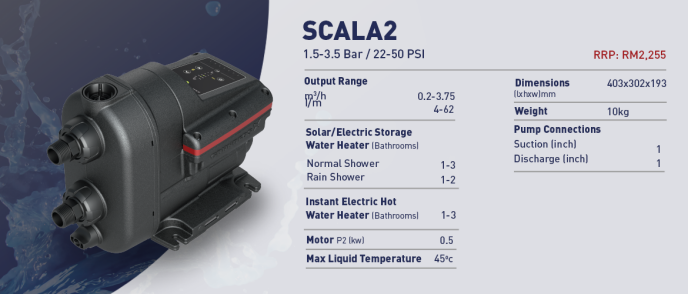 Overview
Perfect water pressure – finally compact and easy to install
SCALA2 is a fully integrated water booster pump providing perfect water pressure in all taps at all times – even with multiple taps and showers running at the same time. It packs pump, motor, tank, sensor, drive and non-return valve into one compact unit. And with its intelligent pump control, SCALA2 automatically adjusts performance to both inlet pressure and water consumption in the home. Thanks to a water-cooled motor, SCALA2 even offers one of the lowest noise levels of any booster on the market.
What is intelligent pump control?
SCALA2 features a built-in sensor, which constantly measures the discharge pressure. If the pressure drops below the desired level, SCALA2 boosts its operation immediately to compensate for the loss of pressure. We call it intelligent pump control and the result is perfect water pressure.
Contact our online sales team at 012-2332243  or Whatsapp to ask for best prices
Benefits
Perfect water pressure: Intelligent pump control adjusts operation automatically
Low noise:As quiet as a modern dishwasher (47 dB(A) in typical use)
Easy selection: One variant for all domestic boosting needs
Compact, all-in-one solution, plug-and-pump , Easy installation:
Easy to operate: User-friendly control panel
Reliable operation: Dry-running protection, anti-cycling
Long lifetime: Quality-tested to perfection, maintenance-free
Applications
SCALA2 is the perfect choice for residential buildings with up to 3 floors and 8 taps.
Boosting from mains: Increases the water pressure delivered by city mains
Boost from tanks: Increases water pressure from roof tanks, break tanks and ground tanks, including rainwater tanks.
Push from wells: Pumps water from a depth of 8 metres
Suitable for both Indoor and outdoor installation.
General description
Grundfos SCALA2 is a fully integrated, self-priming, compact all-in-one water pump for pressure boosting in domestic applications.
In addition, Grundfos SCALA2 incorporates integrated speed control enabling perfect water pressure at the taps, meaning that the pump performance will increase with increasing demand.
SCALA2 can be installed in three easy steps:
Connect the pipes.
Prime the pump.
Plug the pump into the power outlet and the pump will start.
Grundfos SCALA2 has all the components necessary to ensure a comfortable pressure:
Intelligent controller
Speed-controlled drive
Tank
Sensors
Non-return valve
Features
Adjustable constant pressure
Low noise , < 47 dB(A) (in typical use)
Compact
Robust and reliable
Easy installation and self-priming
Dry-running protection
Applications
Grundfos SCALA2 is designed for pressure boosting in one-family houses and apartments.
We recommend SCALA2 for the following applications :
City mains water
Water from roof tank
Water from break tank
Pressure boosting of water from ground tank
Water supply from shallow wells (<26 1/4 ft /8m)
Performance
SCALA2 is suitable for houses with up to three floors and eight tapping points.
Accurate sizing of the pump can be based on the pump curve below and local norms and standards .
Contact our online sales team at 012-2332243  or Whatsapp to ask for best prices