Which is the Best Grundfos Water Pump suitable for your home?
Low water pressure is a common problems for many homes in Malaysia. ✅Companies like Grundfos Malaysia have made products that are the ⭐ perfect solution for your need for a water pressure pump. Grundfos pump is popular with it's quality and proven can last for more than 10 years for new installation. Among the brands in Malaysia, Grundfos water pump is well-know for its Quiet operation that less than 54dB(A). Grundfos Malaysia has been established service center in different states in Malaysia.  BWS Sales & Services Sdn Bhd is one of the water pump sales & service center in Selangor & Kuala Lumpur with reasonable prices.
【After a hard day of working, you deserve to enjoy a massage-like shower like me !🛀🏻】
Who doesn't want to take a shower immediately after home and lay on the sofa/bed to scroll through your Facebook, IG and continue to watch your drama series? BUT when you turned on the shower, the water pressure is super LOW that you can't even wash your scalp properly 😩😩 And so, you had to take the shower head down to drench your body part by part. Sigh ~~
Good thing companies like Grundfos have made products that are the perfect solution for your need for a water pressure pump.
Let me tell you my secret, all you need is only ONE strong water pressure pump!! 💆🚿
By installing just a Grundfos pump, you will
✅ seems like enjoying Jacuzzi every day!
🚩 also save more than 50% of the time of washing dishes/cars/watering plants, most importantly your wife/mom will stop nagging when doing housework 😝
✅ Never doubt for this big brand with sales exceeding RM1,000,000,000 a year
🚩 An international brand with more than 100 years of history, buy NOW to get an additional 6 months warranty!
✅ Despite two and a half years of warranty, we also gives you 5-stars after-sales service! ⭐⭐⭐⭐⭐
Here, we recommend you the FIVE best Grundfos Water Booster Pump in Malaysia.
1. Grundfos CM-PM1 Home Water Booster Pump

The Grundfos CM Booster PM1 is a compact booster set for water supply in domestic applications.
Consisting of a Grundfos CM pump and a Grundfos Pressure Manager PM1, this solutions starts and stops automatically according to demand, while protecting the pump from dry-running
The CM Booster with PM1 is designed to boost water supply in domestic applications. It can connect to city mains either directly or via a storage water tank.
Main benefits

Automatic start-stop
All-in-one system – plug & pump
Low noise operation <=55 dB (A)
Suitable for generator operation – power fluctuations
Dry run & overload protection.
2.5 years Warranty
2. Grundfos CM-PT Home Water Booster Pump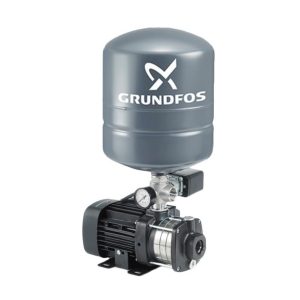 Energy savings, unforgettable shower experiences and strong, constant water pressure for your daily needs around the home. The CM-PT series pressure booster system with pressure tank gives you a host of extraordinary benefits.
This pump is strongly recommended to those houses which suspected or always have minor piping issues, it will helps to reduce the numbers of start/stops.
The Pressure tank smooths flow from faucets, reduces the number of start/stops, eliminates pulsations and water hammer. One of the advantages of a pressure tank is that they can dispense up to half of their capacity of water without the pump switching on, resulting in less wear and tear and greater energy savings.
With superior Danish technology, sterling quality and the fact that only Grundfos pumps are SIRIM certified, you are assured total peace of mind and satisfaction when you choose Grundfos.

Product Certified by SIRIM
Quiet Operation
2 years warranty
Energy Efficient
Quality assurance
Longer life span
Easy installation
3. Grundfos Uni-E CM Variable Speed Water Booster Pump

The intensity of the water pressure, reliable and consistent temperature, the strong, invigorating spray plus excellent energy savings. You can have it all with the top-of-the-line Grundfos UNI-E series pressure booster system.
Grundfos UNI-E variable speed drive home booster pump help ensures constant water pressure despite variation in demand or inlet pressure.
Keeps the pressure up regardless of usage
The constant pressure feature provides the benefit of increased comfort and you can even personalize the water pressure that you are comfortable with.
With superior Danish technology, sterling quality and the fact that only Grundfos pumps are SIRIM certified, you are assured total peace of mind and satisfaction when you choose Grundfos.
Features & Benefits
Product Certified by SIRIM
Quiet Operation <54dB(A)
2 years warranty
Energy Saving
Constant pressure driven by INVERTER
Quality Assurance
Longer life span
Eliminate water hammering
Easy Installation
4. Grundfos Scala2 Water Booster Pump


Perfect water pressure – finally compact and easy to install
SCALA2 is a fully integrated water booster pump providing perfect water pressure in all taps at all times – even with multiple taps and showers running at the same time. It packs pump, motor, tank, sensor, drive and non-return valve into one compact unit. And with its intelligent pump control, SCALA2 automatically adjusts performance to both inlet pressure and water consumption in the home. Thanks to a water-cooled motor, SCALA2 even offers one of the lowest noise levels of any booster on the market.
What is intelligent pump control?
SCALA2 features a built-in sensor, which constantly measures the discharge pressure. If the pressure drops below the desired level, SCALA2 boosts its operation immediately to compensate for the loss of pressure. We call it intelligent pump control and the result is perfect water pressure.
Benefits
Perfect water pressure: Intelligent pump control adjusts operation automatically
Low noise: As quiet as a modern dishwasher (47 dB(A) in typical use)
One variant for all domestic boosting needs
Compact, all-in-one solution, plug-and-pump
User-friendly control panel
Reliable operation: Dry-running protection, anti-cycling
Long lifetime: Quality-tested to perfection, maintenance-free
Applications
SCALA2 is the perfect choice for residential buildings with up to 3 floors and 8 taps.
Increases the water pressure delivered by city mains
Increases water pressure from roof tanks, break tanks and ground tanks, including rainwater tanks.
Pumps water from a depth of 8 metres
5. Grundfos Compact-E Water Booster System Pump
Grundfos Compact-E System is designed with two to four numbers of Grundfos Horizontal centrifugal multi-stage CM pumps operating in parallel via Grundfos R-series variable speed drive installed at the panel. The constant pressure boosting is able to supply water to household, dwellings, office buildings, hotels, hospitals, departmental stores and manufacturing plants.
Features and Benefits
Constant pressure for optimum comfort and energy savings
Simple and user friendly operation
Lead lag and timer change over feature to ensure equal operation of pumps
Automatuc changeover in the event of failure of one pump to prevent interruption of water supply
High quality components for longer lasting operation
Motor protection to minimize failure of the motor and pumps from external fault
Standard protections
Earth leakage protection from mains
Protection via Grundfos R-series VSD for motor pump protection such as over-current, over-voltage, motor overload, under voltage during operation, ground fault, high pressure limit, low pressure limit, sensor fault and dry run protection.
6. Grundfos Sololift – Toilet discharge & Grey Water System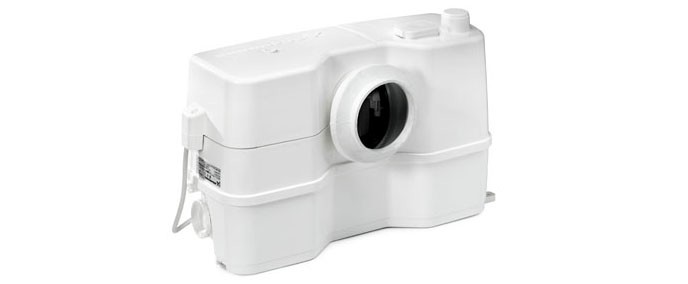 SOLOLIFT2 is a unique range of compact lifting stations enableing a drain of any domestic sanitary appliance wherever needed, independent from the gravity drain system. The units collect and pump the wastewater through a thin pressure pipe (>23mm) to the next down pipe – up to 6m high or 100m distance.
An extra toilet or a complete bathroom in attic or basement must be no longer only a wish with SOLOLIFT2.
The range consists of 5 compact lifting station variants for disposal of domestic wastewater.
2 units, called C-2 and D-2, are designed to take grey wastewater from several objects.
The numbers indicates how many additional inlet connections are possible.
SOLOLIFT2 is designed according to the needs of professionals – high reliability and easy, clean service in mind.
7. Grundfos CM Smart Water Booster Pump
The Grundfos CM Smart is a compact booster set for water supply in domestic applications. This Pressure Booster unit consists of a Grundfos CM Pump, a PM2 Pressure Manager and a Pneumatic Tank. The pressure manager allows the pump to start and stop automatically according to demand and protects the pump from dry running. The pneumatic tank ensures smooth flow from faucets, reduces the number of start/stops which eliminates pulsations and water hammering.
● Features:
– Quiet operation
– 2 Year warranty
– Dry running protection
– Quality assurance
– Longer Life Span
– Easy installation
– Energy saving
– Auto restart